MuNuby Help - Part I
Below are some examples that should assist our new members with their transition to the MT blogging software.
As you Junior Rocket Scientists review this, give me some feedback on what you would change to make it a better primier for our new members. Thanks.
Tonight is Part I, covering where the tempaltes are located, how to access them and which templates modify which parts of your MT blogging platform.
Tomorrow will be Part II, covering the Main Index and Stylesheet. I will outline for you which parts of the stylesheet modify which parts of the Main Index.
Thursday will be Part III, covering the Comment Templates and the Trackback Templates.
MuNuby Help Part I
Click embedded image for full size pop-up image.
This is your opening screen: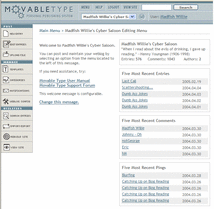 To edit your templates and stylesheet, click on the TEMPLATES buttons on the left side: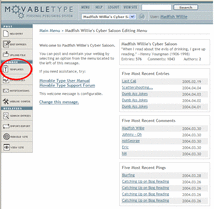 This is your template editing screen: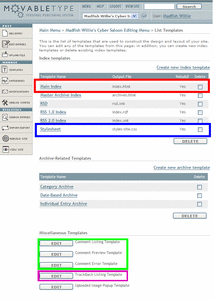 The Main Index is the file to edit for HTML content.
The Stylesheet is the file to edit for CSS presentation.
The Comment Templates are files used to edit the HTML content for your comment windows.
The Trackback Template is the file to edit the HTML content of your trackback window.
Posted by Madfish Willie at March 31, 2004 02:51 AM