Basic MT Blacklist – step by step.
This is a followup to the earlier primer that described what Blacklist does. Now it's time to actually put it to work.
First, let's make sure it is turned on for your blog.
Go to http://blog.mu.nu/cgi/mt-blacklist.cgi If you're not already logged in, you'll be asked for your blog's username and password. Enter it. You'll be brought to a screen as shown below. Click on the box labelled Configure.

This is the next screen you'll see. You want to make sure that there is a checkmark in both the Comments and Trackbacks boxes. (you'll likely only see the title of your own blog, not the several that you see in this screenshot.) Then scroll to the bottom of the page and click Save Configuration.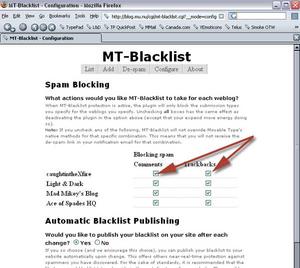 Once you've done that, your blog is ready to take advantage of Blacklist's automatic protection capabilities.
The majority of spam should get blocked before it reaches you, but if you find that your blog has received a number of spam comments (if it's just 1 or 2, it's just as easy to go into your admin page and delete them from there), you're going to want to get into the Blacklist again, either by using the address you used earlier, or by clicking the De-spam link at the bottom of one of the comment notification emails you received. When you get to the Blacklist page, you're going to click on the De-Spam button, which will take you to the page shown below. (If you got to the page via the link at the bottom of an email, you'll be taken directly to the De-spam page.)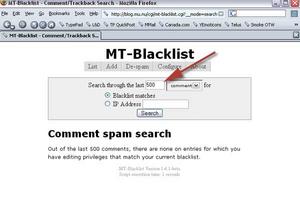 Here, you can set the number of recent comments to check. I usually ask it to go through the last 2500, to be sure. It's also worth asking it to check the last 15,000 or so the first time you do this - and only the first time, as it really stresses the server - in case you've got old spam comments hiding from a long time ago. (We're talking about the last n comments on all of MuNu, so that's why the search number needs to be so high). Once your number's entered, click Search.
If it finds any comments which it has been taught are spam, it will list them on the page, and give you the option of un-checking any that you actually want to keep (a good security feature). Once you've decided which to delete, tell Blacklist to get rid of them, and it will also rebuild the entries that need it.
If you have a whack of spam, but the Blacklist doesn't find it, and you're not thoroughly familiar with how to create new entries in the Blacklist, you can just wait a couple hours, and come back and try again. It's entirely possible that in the meantime, an experienced user will have encountered it as well, and will have created entries that will let Blacklist find & clean yours. (Pixy is famous for doing this incredibly well) I've got some ideas for how to increase the likelihood of that happening, but that's for another post.
So there are the the basic steps in the arcane art of the Blacklist. If anything's unclear, be sure to ask.
Paul
Posted by PaulT at September 30, 2004 07:56 AM