August 25, 2005
Sorry About That
I don't swear very often. In fact, the only two things that can make me say rude words these days are flaky disk drives and database corruption. Oh, and anything that takes my munu off the air can generate some ripe expletives too.
At least we weren't losing $2000 a minute while the system was down - I've been there, don't want to repeat it.
On the other hand, to lose $2000 a minute you'd have to have actual revenues in the first place...
One other thing: Trackbacks and searches (the Movable Type search function) are turned off for now. I'll turn them back on in the morning (my morning - about six hours from now) when I'll be around to keep an eye on things. They were using excessive amounts of memory - hundreds of megs - which would be a problem even if the server wasn't all flaky.
I've just taken a full database backup and shipped it off to the backup server just in case.
Posted by: Pixy Misa at 05:23 PM | Comments (4) | Add Comment
Post contains 171 words, total size 1 kb.
June 16, 2005
Alien Attitudes is nearing the finish
I am unsure how many of you have been following my progress on my trilogy project, but
the first book
is available for sale ... although I suspect you'll have to wait awhile before it will be delivered to your door.
Posted by: Tiger at 04:44 AM | Comments (2) | Add Comment
Post contains 47 words, total size 1 kb.
February 01, 2005
Amnesia Lane
I was looking around at my blogs counter info, and I saw someone hit on my old blog, before I moved to Munuviana. Way back in 2003. Does that make me a pioneer of blogging?
Anways, it's always strange to read something you wrote a few years ago.
Take a look. It's pretty bad. But funny nonetheless.
It reminds me of when I was looking at CNET and was reading a story published back in 1996 about this new technology called DVDs, and more importantly DIVX, which was what Circuit City was trying to get as the standard.
It's amazing how technology and time flies.
Posted by: Tom Bux at 07:35 PM | Comments (1) | Add Comment
Post contains 107 words, total size 1 kb.
December 13, 2004
Animated Munu???
With
Pixy adding the cool new "Another Mu.nu blog" logo to his front page
(and I'll be soon to follow), I wanted to note this other idea I've had about the Mu.nu community and promotion.
Is it posible to get a sort of automated "Latest headlines" thing featuring all of the Munu blogs? Something like the Headline Animator provided byFeedburner. We could all put in on our frontpages and get the word out about all the other awesome blogs in our community. Anyway, it'd be nice...
P.S. Is it me or does Safari hate these helpful "URL" and "B" buttons on the post entry page?
Posted by: Daniel at 03:45 PM | Comments (1) | Add Comment
Post contains 107 words, total size 1 kb.
September 20, 2004
Pixy's Birthday
Pixy is obviously the Benevolent Dictator of Munuvia. Does anyone have any ideas on what his Official Title should be?
All I can come up with is "Dear Leader."
Posted by: Victor at 05:35 PM | Comments (14) | Add Comment
Post contains 31 words, total size 1 kb.
May 06, 2004
February 23, 2004
January 12, 2004
All New Mu Nu
Mu Nu is getting a new home!
The new server is an Athlon XP 2500+ (nearly twice as fast as our existing Celeron). It has a gigabyte of memory (twice as much as the existing box), 240 gigabytes of disk (four times as much) and 500 gigabytes of bandwidth per month (five times as much).
Also, it has Fedora Linux, CPanel, and Fantastico, so lots of cool new toys for you to play with.
I should be getting the keys within 48 hours, after which it will take a week or two to get everything set up over there (depending on how busy I am with other stuff).
Company: Yay!
Posted by: Pixy Misa at 05:31 AM | Comments (13) | Add Comment
Post contains 114 words, total size 1 kb.
September 29, 2003
Our Web Server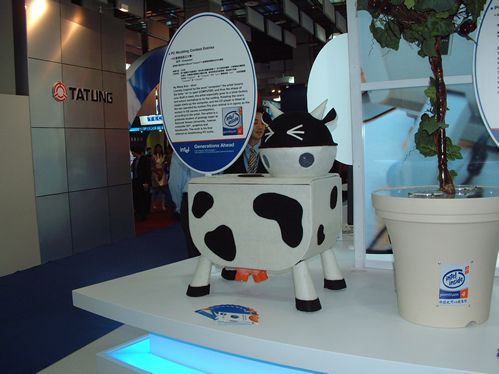 Posted by: Pixy Misa at 04:21 PM | Comments (8) | Add Comment
Post contains 3 words, total size 1 kb.
September 13, 2003
Munuviana - a history in many parts
Early roots of the word Munu
'Munu' is one of those special words that was present in many different languages, but meant various things in each. For instance, the Aborigine munu meant 'one with an ego as big as Ayers rock'. Similarly, in old Saxon, munu meant 'calf' – literally 'cow just born'. Old germanic languages also contained the word munu, which meant 'lets go west and kick some butt'. This word fell from common usage when the various peoples to the west began surrendering at the first sign of trouble, taking all the fun out of it. Curiously, the only place in oriental cultures where the word munu appears is in an ancient version of today's Vietnamese language. Apparently munu and its numerous variations were used as village and town names, as well as the names of important physical features such as rivers, mountains and lakes. In each of these cases, the word munu always meant 'right here'.
As for the specific roots of Munuviana as we use it, some scholars have posted brilliant analysis on the subject, but a recent theory suggests that somehow the name derives from a cartoon.
Further parts will be posted as people make things up further research the archives.
Posted by: Ted at 01:58 PM | Comments (3) | Add Comment
Post contains 213 words, total size 1 kb.
55kb generated in 0.1134 seconds; 59 queries returned 172 records.
Powered by Minx 1.1.4-pink.